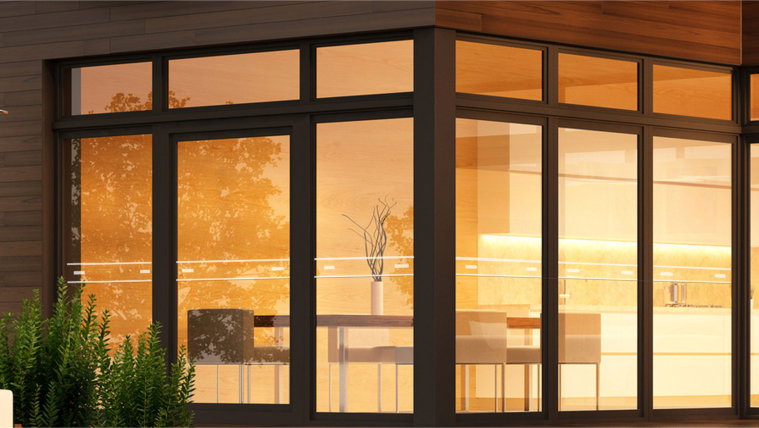 Pearl – Natural Air-Conditioning for Summer Cooling
Effortless to glide open and closed in one simple motion, the two panes of glass slide past each other simultaneously in an artful act of brilliance providing an uninterrupted view. The vertically operating Pearl single glazed window employs Nature's Fan to the maximum effect allowing cool air to naturally enter below, and warm air to escape above.  Pearl Single Glazed is available in the easy to assemble, cost-efficient Easy Build kit form complete with instructions.
Pearl Drives Out Excess Warm Air
Once opened, the Pearl single glazed aluminium window is vastly superior to awning or traditional sliding windows for promoting natural air circulation of breezes by harnessing the power of positive ventilation.  Temperature monitored tests show room air is air-conditioned to, on average, 5 degrees lower with the Pearl window fully extended.  Especially in the bathroom, kitchen and laundry the Pearl is important to drive out excess warm, moist air as it rises, through the top opening and draw in cool air to replace the warm air, through the bottom opening.  It employs natural, sustainable energy, hence it's name, Nature's Fan.  Also View Double Glazed Pearl.
Unique Anti Intruder Barrier – The 'T' Section
An innovative advance on double hung systems, Nature's Fan – Pearl, employs a new 'T' section (the Yellow part in Diagram 1 to right) providing a security window system unlike any other. Pearl's 'T' section conceals the pair of Kevlar cords preventing them from being cut from outside the window, as it hides the stainless steel pulleys from view.  No other window on the market today offers this unique feature – the anti intruder blocking barrier.
The Nature's Fan Pearl Single Glazed window is available as a 2 pane version for glass of 6mm and 10mm.  Each size is available with one pane made immovable, as required.